It almost goes without saying, but a good leader should always aim to be successful in their approach to team management. From helping employees feel comfortable during their duties to addressing everyone's individual needs – it can massively benefit managers to understand the advantages and disadvantages of different leadership styles.
In this guide, we'll explore everything managers should know about a key leadership theory they can take inspiration from in their day-to-day: the situational leadership model. Below, we'll take you through its benefits, drawbacks, and how managers can use it to improve their leadership skills now and into the future.
What is situational leadership?
Situational leadership was devised in the 1970s as a tool for leaders of all types to use in organisations around the world, no matter what sector. The Hersey-Blanchard Situational Leadership model, to give the model its full name, is based on the relationship between leaders and followers, providing a repeatable framework for analysing all manner of different workplace situations.
At its core, the model suggests that leaders can use performance readiness behaviours displayed by an employee as a metric to decipher which relationship and task behaviours should be applied and communicated. In other words, the model lets leaders adjust their leadership style to the abilities and preferences of those they lead.
When used correctly, the theory can prove to be an effective team management tool that helps support individual needs and development across varying levels of competence and motivation. 
The theory suggests that there are four influencing behaviours which leaders can use:
Telling (S1): Leaders take a straightforward approach by telling people what to do and how to do it.
Selling (S2): Leaders initiate more of a back-and-forth by trying to sell ideas to the group and gain buy-in.
Participating (S3): The leader offers less direction and allows the group to take on a more active role in decision making and ideation.
Delegating (S4): Leaders will take a hands-off approach and leave the group to take on the responsibility for the majority of tasks.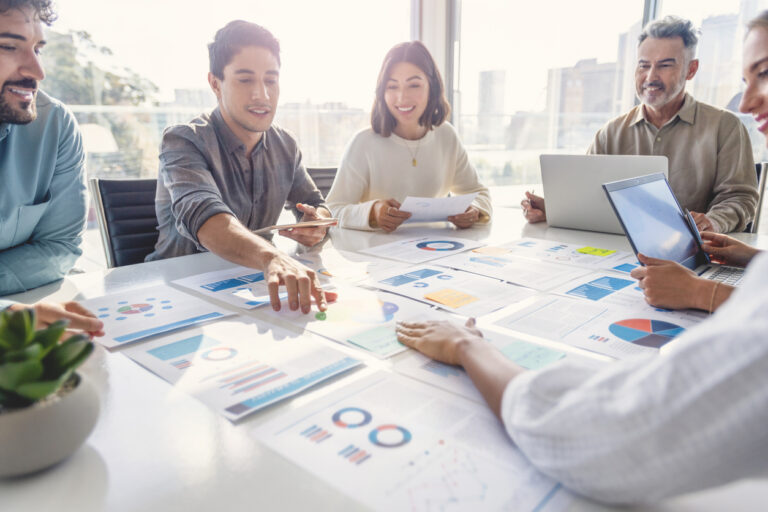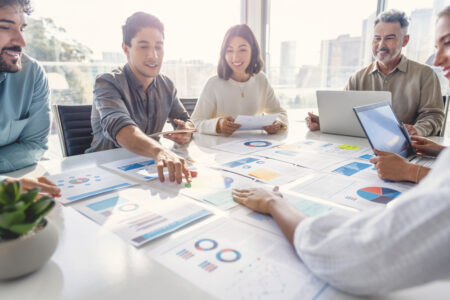 Crucially, the theory doesn't suggest that any of these styles is better or worse than the others. Rather, it's that the different styles can be more or less successful for team management depending on the performance readiness of an individual within the team.
Performance readiness sits on a scale from one to four – four being high and one being low. A performance readiness rating of two or three is considered as moderate.
The four approaches can be split into task behaviours (delegating and telling) and relationship behaviours (participating and selling).
When you put this into practice, a high level of performance readiness could suggest that delegating or participating behaviours would be most effective. Meanwhile, a lower level of performance readiness could indicate that an individual would respond best to selling or telling behaviours.
The situational leadership matrix
The easiest way to visualise how the theory works is by looking at the situational leadership matrix below.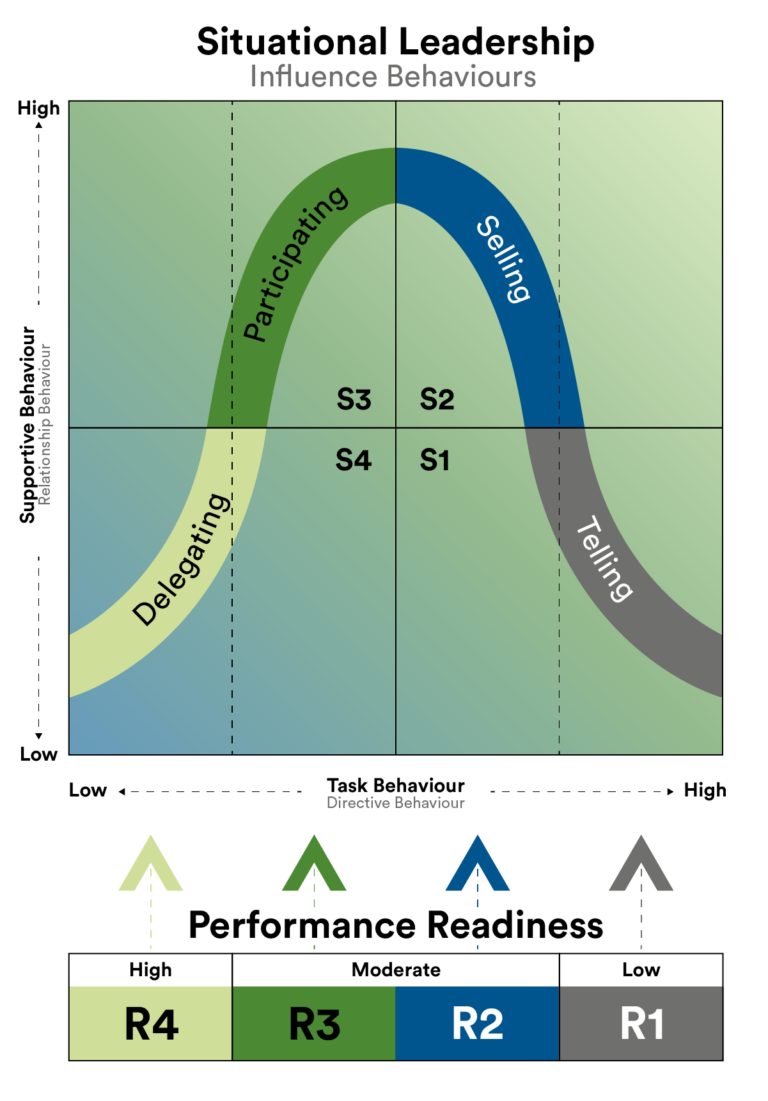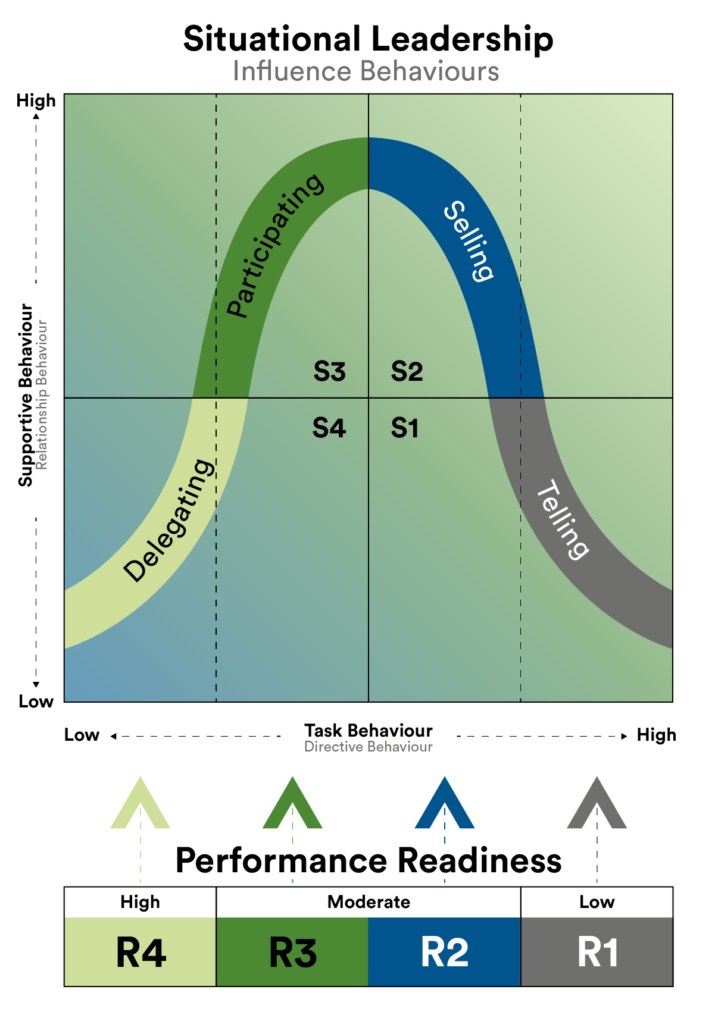 When looking at the model, it becomes clear that when performance readiness is at its highest, task and relationship behaviours are needed less. On the other end of the scale, more task and relationship behaviours should be applied and communicated when performance readiness is low.
How to apply situational leadership
So how can you start putting the theory into practice? To get things started, four core steps must be taken when applying situational leadership in any workplace. Below, we'll take you through each one step by step.
Managers must identify a specific task to be completed, or a performance target that needs meeting, such as hitting daily sales targets.
Their ability (knowledge, experience, and skill) and willingness (confidence, commitment, and motivation) to complete the task should be assessed.
With this assessment to hand, leaders can determine an individual's performance readiness. Lower ability and willingness will indicate a lower level of performance readiness, while high ability and willingness can suggest higher performance readiness. The highest probability approach should be taken at this stage to determine which level feels correct.
Finally, leaders should continuously monitor progress and refine their approach according to its success.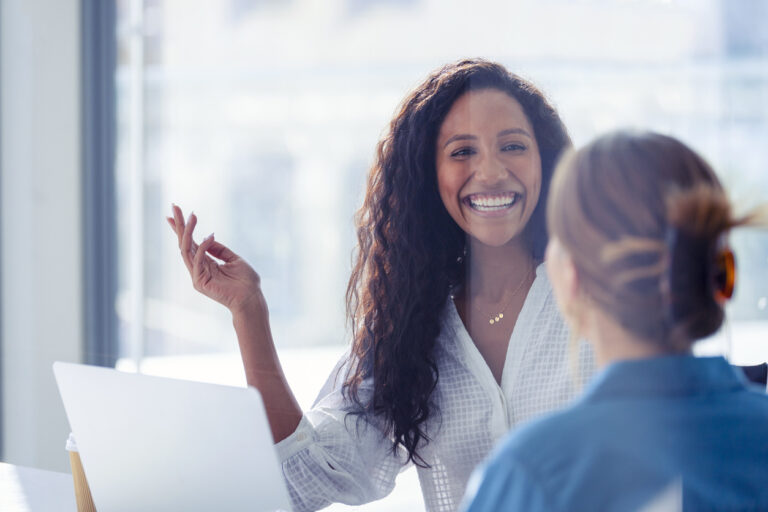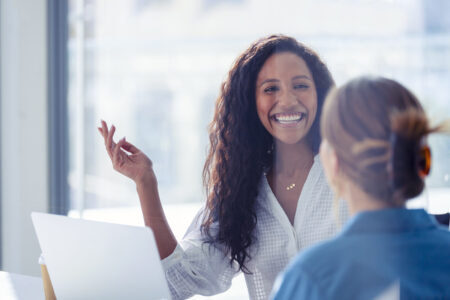 When implementing this theory, leaders should remember that the needs, motivations, and abilities of employees can change over time. Therefore, this is a continuous process that should be carried out regularly to ensure the best approach is always being used.
Strengths of situational leadership
Situational leadership can benefit leaders and their teams in several ways. Below, we'll go through some of the main advantages of this type of leadership.
Adaptability
Leaders can use whichever leadership style they think would be best for any given scenario. This ability to adapt and change their leadership approach based on the situation can help ensure all employees feel adequately supported.
Simplicity
The skills needed for situational leadership are relatively simple – all that's required is an ability to assess a situation and an understanding of how to meet the needs of a team. Equipped with this ability, any leader should be able to simply adjust their management approach accordingly. Therefore, it can be easier for leaders to pick up these skills and put them into practice quickly.
Intuitive
This type of leadership takes the various levels of employee development into account and helps to address every individual skill level and need. For this reason, this approach to leadership can accelerate the pace and quality of development by looking at where each employee currently is and targeting the development specifically.
Creates a comfortable workplace environment
When leaders make a noticeable effort to match the needs of their employees, it can create a more comfortable and open atmosphere. Not only this, but it can also create a common language around performance that ensures everyone is on the same page.
Weaknesses of situational leadership
For every advantage, however, there are also a number of disadvantages to contend with when working with situational leadership.
These can include the following:
Confusion within the organisation
Since situational leaders will often change their approach to address each team or individual's needs, this can lead to a fair share of confusion in some cases. Because of this, team members might feel like they lack clarity on how they're expected to handle tasks.
The unexpectedness of change can be upsetting or distracting for some employees who like to have routine and stability.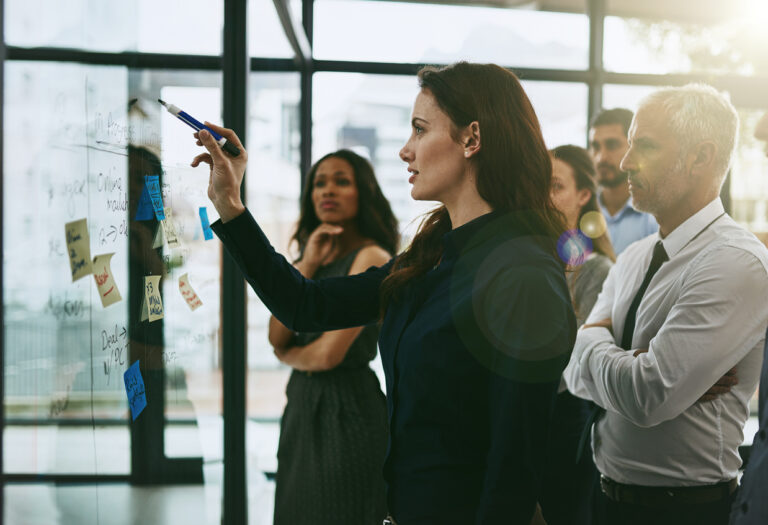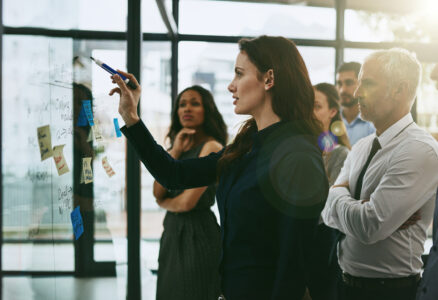 Excessive focus on short-term goals
Situational leadership tends to take each situation as it comes, which can result in long-term goals being overlooked in favour of the short term. While the shorter-term goals are important, businesses and leaders should also keep long-term goals at the forefront to ensure the business remains focused and successful.
Misjudging an employee's maturity level
Some leaders might struggle to judge the maturity level of their employees, which can lead to an unsuitable style of leadership being used. This skill must be established before implementing a situational leadership style in the workplace. Without it, the wrong call can be made – which could cause managers to lose control over their team.
Less useful for repetitive tasks
The flexibility of leaders can often mean it isn't an effective style when repetitive tasks are involved. Although delegation behaviours can work in these situations, the situation isn't likely to change, which means the leadership style becomes fixed rather than situational. 
Examples of situational leadership
Ready to see how situational leadership might look in the workplace? Here are some real-life examples to help you further understand how it works.
Example 1: Managing a task-based team
A manager has been assigned to oversee the completion of a project alongside a team. Some individuals within the team lack experience and confidence, but show a good level of willingness to help. Using this knowledge, the manager can implement the telling approach to start the flow of work with close supervision of these team members. This ensures they develop a base level understanding of what they're expected to do, before moving onto a selling approach. Here, the manager should provide any additional context these individuals might need to encourage progress.
Meanwhile, other more experienced and confident members of the team require less supervision and guidance since they already understand the project, along with what's needed from them. The manager can adopt a delegating approach to team members throughout the duration of the project.
Example 2: An employee is underperforming
A manager is in charge of overseeing the performance of a new team member, but they've been repeatedly missing key deadlines.
After breaking down the tasks and determining that the individual has little experience in certain processes involved, the manager should take a more structured approach such as telling. This should get the ball rolling and allow them to build up more of an understanding of these key processes.
To find out more about careers at SEFE Marketing & Trading please visit our homepage. 
The views, opinions and positions expressed within this article are those of our third-party 
content providers alone and do not represent those of SEFE Marketing & Trading. The 
accuracy, completeness and validity of any statements made within this article are not 
SEFE Marketing & Trading accepts no liability for any errors, omissions or representations.