Across many industry sectors, a growing number of people are working from home either on a permanent or part-time basis. Whether this as a result of the ongoing COVID-19 crisis or for cost-cutting or environmental reasons; the rise in remote working means that thousands of homes now serve as makeshift offices, and more will surely follow in the future.
Whatever your thoughts on working from home, there are several reasons why this type of remote working can be beneficial – both for the business and the individual. From environmental plus points like fewer emissions to the major bonus of flexible working patterns; as businesses try to strike the perfect balance between office and home working, working from home is a positive trend that looks set to continue.
But for all the benefits of home working, there are also plenty of pitfalls – not least finding a suitable place to work. Regular business premises are carefully designed to encourage productivity and collaboration, while at the same time removing distractions and ensuring staff comfort. Our homes are not.
That said, with a little forethought and a couple of small investments, you can easily create a home working environment that meets your requirements. Our guide will show you how.
Finding the right space: Things to consider
Working from the sofa may be OK for a couple of hours of home working, but it's not a suitable long-term setup. When planning your home office, you need to think carefully about the type of space and how it will support your day-to-day work. Here are a few things to consider: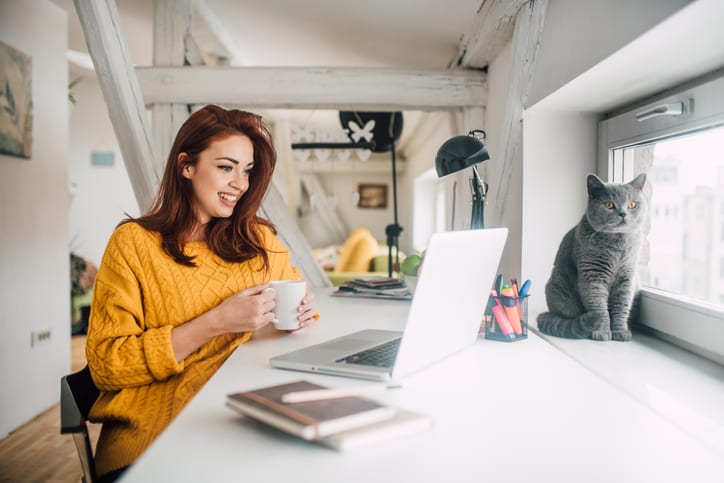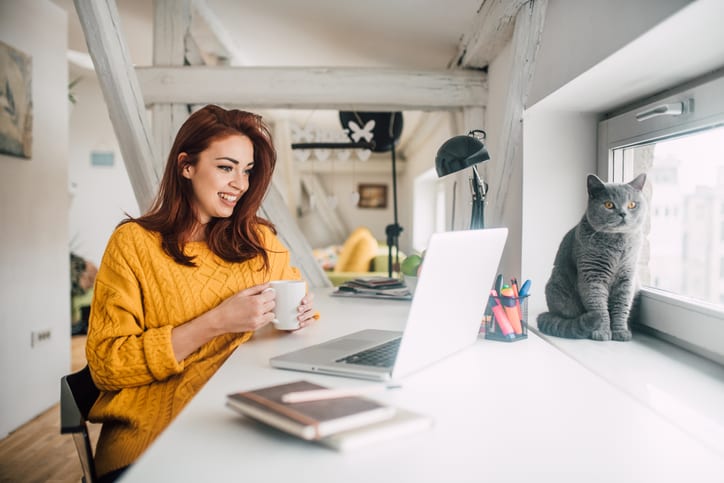 • Space – the most obvious but essential consideration: is your office big and roomy enough for you to work comfortably? A desk, a chair, a chest of drawers; all these office essentials take up space – just make sure there's enough left for you to feel comfortable and motivated.
• Home traffic – we get that finding a room in your home that's completely distraction-free can be tricky, but try to find somewhere that's not heavily trafficked by family members or pets. Sure, working from home is a chance to see family more often, but a degree of separation is needed to make working from home a success.
• Lighting – businesses spend millions every year designing the ideal lighting setup for their premises; that's how important lighting is. Ideally, you want a room with lots of natural light, as that will help you feel more motivated and productive. If you're confined to a box room or loft conversion, invest in a daylight lamp to ensure your productivity doesn't suffer.
• Wi-fi speed – imagine setting up your perfect home office, only to find you barely get any internet connection. Make sure you test the wi-fi speed before setting up your office, or you may need to buy a wi-fi signal booster.
Equipment and set up: What do you need to work from home efficiently?
It's easy to take for granted just how much equipment you need to do your job. A computer, monitors, mouse, keyboard, desk risers and a chair – this is the basic setup you'd find in a commercial workplace. But what about working from home? Is all this kit really necessary?
Below, we detail what makes the ideal equipment setup for a home office.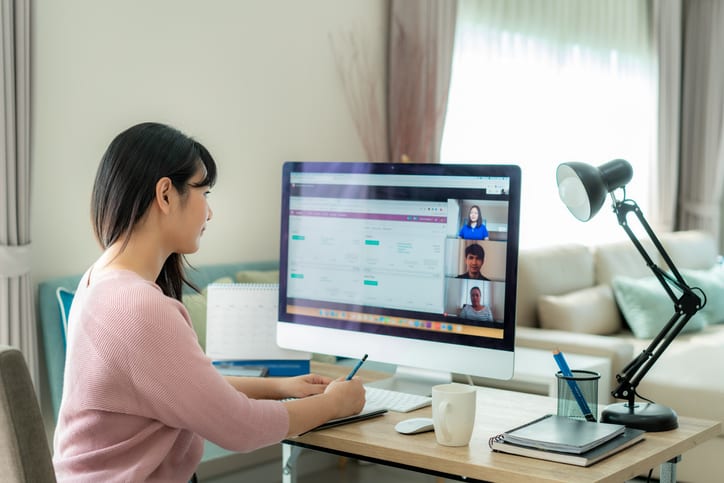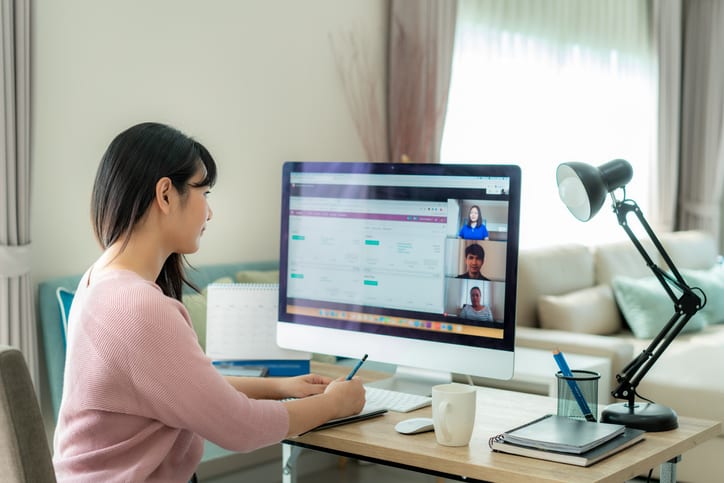 Computer or laptop?
In our experience, a laptop is more convenient for home working, offering greater flexibility than a desktop. The home working environment is less predictable than the traditional workplace, and you never know when you might need to go portable and find a quieter place to get your head down.
That said, working from a laptop full time isn't ideal. That's why we'd recommend using a second monitor and a keyboard and mouse from time to time, so you can feel tethered to your desk and easily focus on the task at hand.
The perfect desk and chair
Replicating the ergonomic comfort of an office desk and chair at home can be difficult. You need something that provides the comfort and stability you're used to in the office without costing a fortune – and this balance can be a challenge to get right.
When searching for an office chair, find something with the maximum amount of adjustment; that way you can tailor the fit to suit you. The same goes for desks too; many have adjustable legs, so you can raise or lower it depending on your height and preferred working posture.
A word on sourcing equipment for your home office
There's a grey area when it comes to kitting out your home office and that is: do I pay or does my boss? You'd expect that the business would pay for any equipment you need if they've asked you to work from home, but what if they simply don't offer?
Approaching work to ask for help with purchasing any bits and pieces you need for a home office can be daunting, and some people may feel cheeky for asking. Don't. If you're working for a business in any capacity, they should supply the equipment – just as they would in a normal office environment.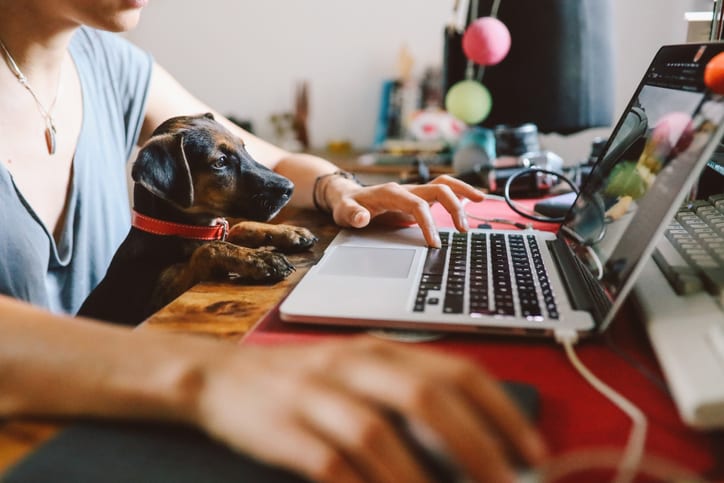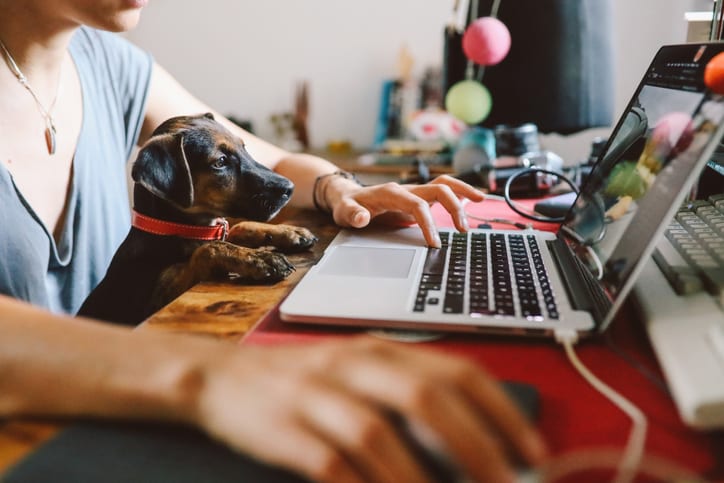 Tips on how to separate work from home life
One of the biggest challenges of working from home isn't avoiding distractions, it's separating your home life from your working life. In normal circumstances, the two are miles apart, and they have traditionally offered a form of escape from one another.
But with work now taking up a room of your home, it's important to keep things separate as much as you can. Here are a few tips on how to get this right:
• Establish a daily routine – just as you would in the office, you'll find it easier to make a success of working from home if you have a familiar routine. This will also help you set boundaries with loved ones, so they know when you're available.
• Schedule regular breaks – it may feel like you have more freedom working from home, but without the distraction of colleagues and meetings, you may end up more tied to your desk more than ever. Be sure to schedule regular breaks and get away from the screen, even if it's only for a few minutes every couple of hours.
• Avoid working unnecessarily – with your work at home, it can be easy to fall into a trap of working longer hours than you would normally. If this isn't expected of you, it's really something to avoid, as it could start to affect your work-home balance.
Click here for the latest news and features from SEFE Marketing & Trading or visit our homepage to find out about our latest career opportunities.
The views, opinions and positions expressed within this article are those of our third-party content providers alone and do not represent those of SEFE Marketing & Trading. The accuracy, completeness and validity of any statements made within this article are not guaranteed. SEFE Marketing & Trading accepts no liability for any errors, omissions or representations.