Team goals can be a powerful thing. Not only do they combine a variety of different abilities and skill sets – and empower the team in the process – they let everyone contribute to the bigger picture of an organisation's mission too. And when everyone is invested in this way, it creates a host of positives across the board.
So, how can you set meaningful and attainable goals that align with both company strategy and the skills of each individual team member? Below, we'll show you what you can do to create team goals – and meet them – in ways that can help bring out the best of everyone on your team.
What are team goals?
As a means of working towards objectives and milestones together, team goals are a great way of bringing everyone's individual strengths to the forefront. When employees have a chance to demonstrate their own unique skills in ways that they know will benefit the organisation as a whole, it plays a huge part in their own investment and engagement. And when your team is engaged, there tends to be an uptick in team morale too.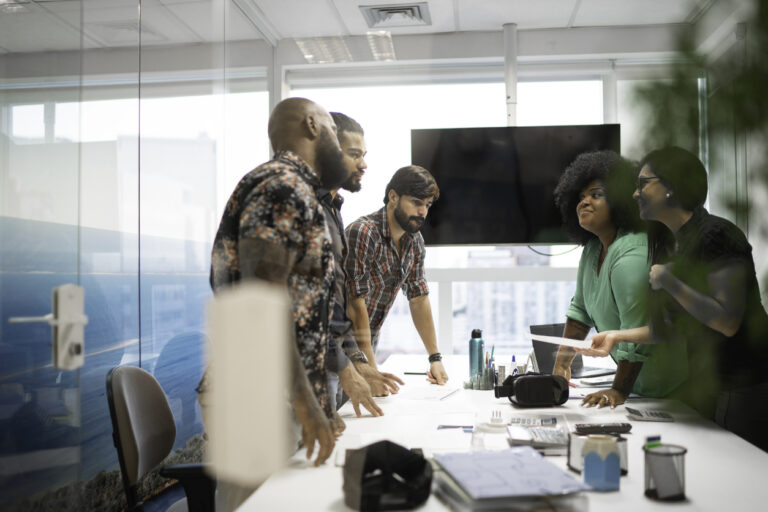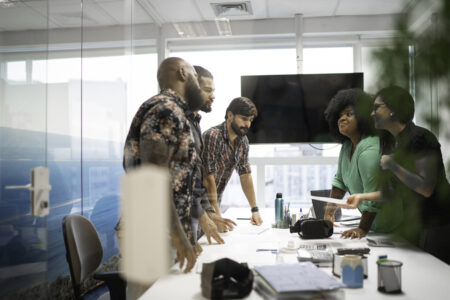 How to set team goals
Understand the business' goals
Team goals tend to be more effective when they also contribute to the goals put in place by the company as a whole. Before you do anything else, you and your team should take the time to go over the business' goals. Meet with your own manager to discuss these wider company objectives before talking them through with the team. From here, you can start to get more of an idea of what their goals should look like.
Think about goals at the team level
With the company's goals in mind, you're in a better position to think about why it is you want to set team objectives and what you hope to achieve with them. Measurement also plays a big part in the goal-setting progress, so it's important to know how you'll track and evaluate progress all the way up to completion.
When you know what you want to achieve, you can start to set goals for your team. Striking a balance between challenging and meaningful makes for smoother collaboration. Rather than attempting to outdo each other, a singular target makes focusing on the outcome as one much easier.
And don't forget to write your goals down once you've identified them. Research has shown that writing down your goals helps you commit them to memory. And ensuring your goals remain in view means your team has a better chance of achieving them as a result.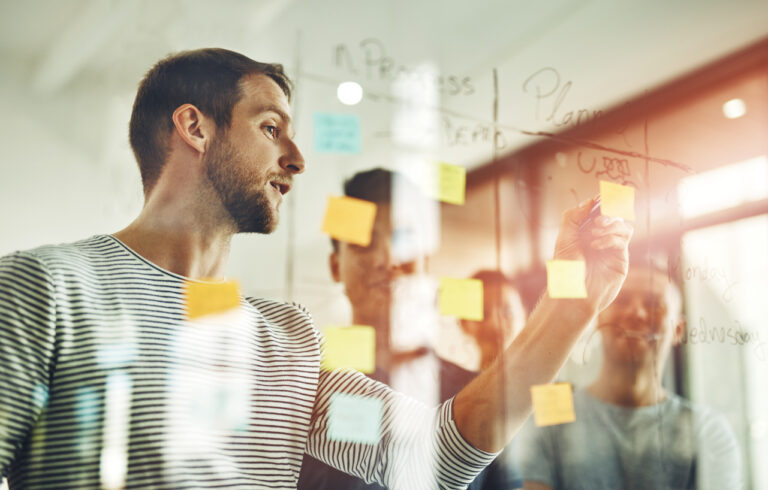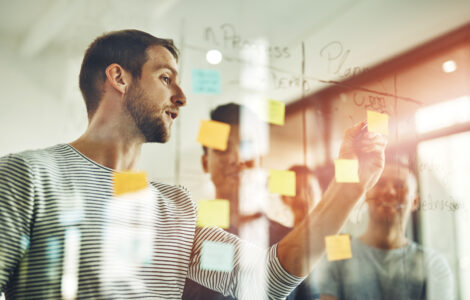 Link business and team goals
Now you can start thinking about the role these goals might play in contributing to the business' bigger picture. Alongside your team, take a look at how your work factors into the company's vision by asking yourself questions such as the following:
– Where does the company strategy most reflect our strengths?
– Where can we make the greatest impact as a team?
– Which KPIs do we contribute to directly/indirectly?
Once you know where to place your attention, you can create clearer goals that you and your team can start prioritising and working towards.
Make your goals measurable with SMART
As we said earlier, measuring your goals is a large part of achieving them. How do you know your goal has been a success if you can't actually measure that success? It's important to make sure your goals can be quantified. And, thanks to the SMART goal framework, the process is more than doable.
In the SMART framework, your goals should be:
– Specific: The more specific your goal is, the more you and your team can focus your efforts and succeed in achieving the goal.
– Measurable: When your goals are measurable, tracking your progress towards meeting them becomes far easier.
– Attainable: Are your goals actually realistic? If not, then they're probably not worth pursuing.
– Relevant: Do your goals map to the objectives of the business as a whole?
– Time-related: Setting clear deadlines can make sure everyone is as productive and efficient as possible.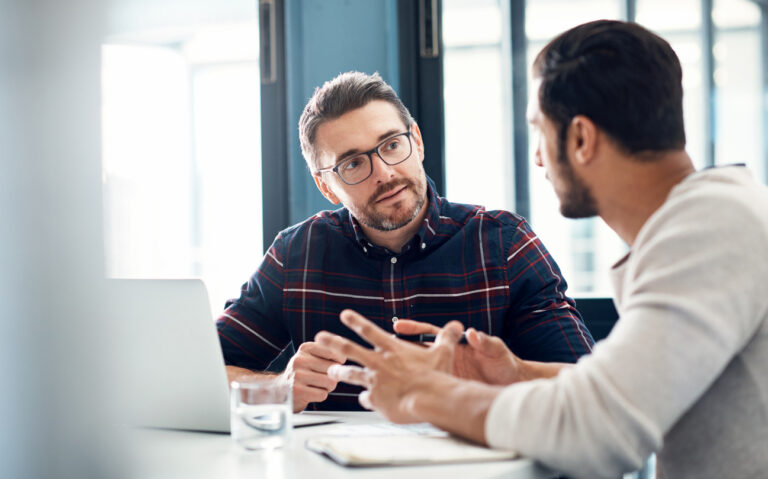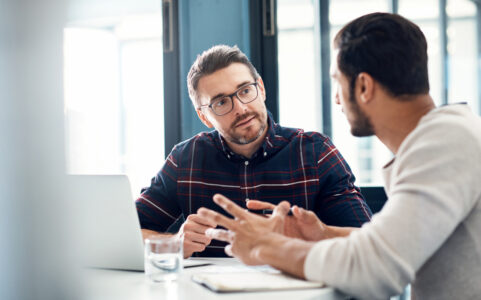 Let your team create their own goals
Once you've created your team goals, give your team the chance to create their own individual milestones. By letting them demonstrate their own skills, experiences and resources, they can become far more invested in the team goals at large as a result.
As they begin identifying and developing these personal goals, be sure to emphasise the importance of the SMART framework once again so they can line them up with both the team's goals and your company's wider organisational goals.
Without deadlines in place, the pursuit of your team's goals could go on indefinitely. When the goalposts are constantly being moved, it's easy for things to get pushed back or fall by the wayside. At this point, it's easy for team members to become discouraged, detaching themselves from the pursual of their goals entirely.
If you want your team to take things seriously, then it's vital to have deadlines in place.
Track your goals' progress
With responsibilities and individual milestones shared out across your team, maintaining a sense of direction and tracking each member's progress is vital.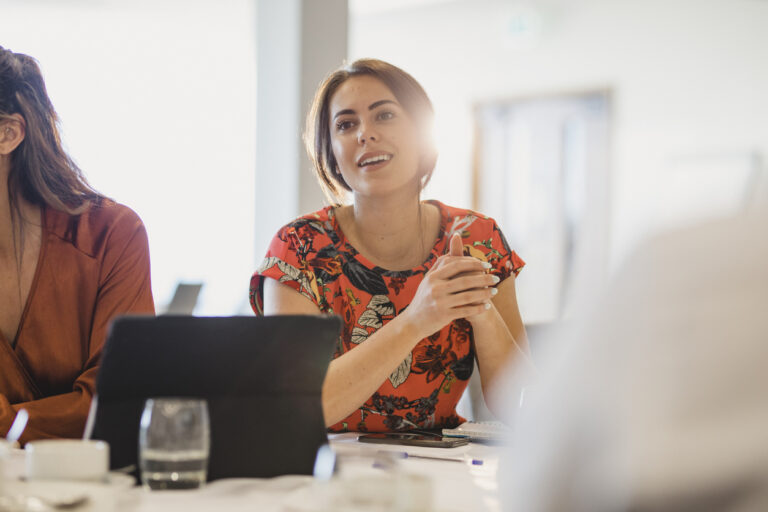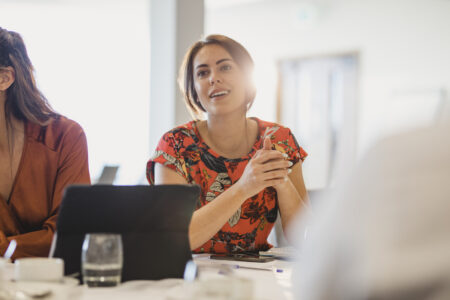 Help your team throughout the process by doing the following:
– Schedule one-to-one meetings regularly with your team to get a handle on how they're progressing
– Support their efforts with advice and, if necessary, individual training so they can achieve their goals
– Developing individual milestones team members can use to track their own progress
– Let them know what's going well – and what might not be – in the form of regular feedback
– Listening to their own concerns and questions regarding their goals
With your goals complete, be sure to follow up with your team so you can celebrate your successes and talk about where you need to go next goal-wise. Rewarding accomplishments and achievements is always good for team morale, even if you're just verbally recognising your team member's hard work.
Of course, not everything will go as well as you'd hoped. Use this time to shine a light on the areas where you and your team faltered. Perhaps certain goals weren't realistic? Did you run into unforeseen issues that hindered performance? Whatever it was, let your team know that there's nothing wrong with falling short. What matters most is that you and your team can learn from any of the mistakes that were made.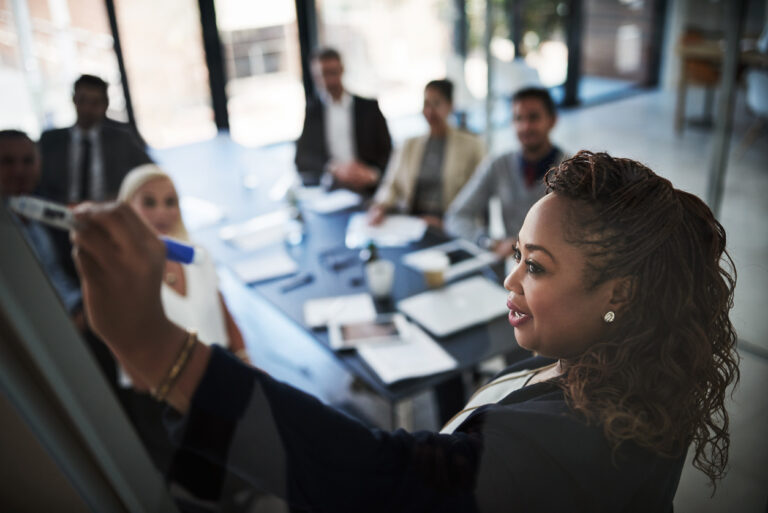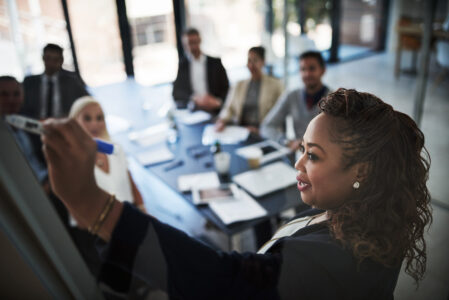 Examples of team goals and objectives
– Increase traffic by 5% each month on a particular page of your website
– Hold cross-departmental teams twice a month to better understand and resolve respective issues
– Increase month-on-month client retention from 75% to 80% by the end of the year
– Increase the number of followers on key social media channels within the next 4 months
– Improve customer loyalty by achieving an annual subscription renewal rate of 90% (or more)
– Ensure every member of the team has six sigma certification over the course of the year
For more insights on how you can improve employee performance and boost team morale, check out the effective tips at our resources below:
– A Complete Guide to Employee Coaching
– The GROW Model: How Coaching Can Improve Team Performance
Click here for the latest news and features from SEFE Marketing & Trading or visit our homepage to find out about our latest career opportunities.
The views, opinions and positions expressed within this article are those of our third-party content providers alone and do not represent those of SEFE Marketing & Trading. The accuracy, completeness and validity of any statements made within this article are not guaranteed. SEFE Marketing & Trading accepts no liability for any errors, omissions or representations.